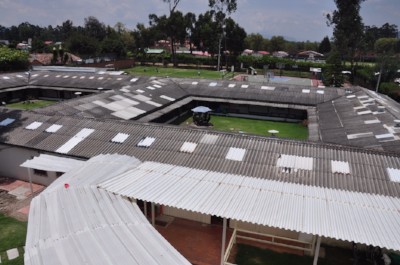 ECA was founded in 1980 by a group of North American missionary parents who desired a U.S.-based curriculum for their children's education, allowing for easier transition upon return to the States. Two other goals were providing an education 1) based on biblical values, 2) at a moderate cost. ECA was created as a non-profit association, called Asociación El Camino Real – El Camino Academy, for children of North American families who shared a common language and cultural traditions.
Its motto is "Training for Life" based on Deuteronomy 6:5-7. Since its foundation it has been a member of the Association of Christian Schools International (ACSI).
ECA had 25 students and 3 teachers its first year, with children in 1st through 7th grade. Classes were held in a church in the San Nicolás neighborhood. It later moved into a rented house, and then two houses, and finally three houses in the Pontevedra neighborhood. The school gradually grew to 75 students from Kindergarten to 12th grade. The first high school graduation was held in 1989 with two graduates.
By that point the board realized it was time to buy property for the school, and a lot was found on Calle 222 a few blocks west of Autopista Norte. With a donation of some used prefabricated buildings, the school moved to the new location in 1994.
In 1999 ECA received accreditation from ACSI after several years of membership.
In April 2000, an adjoining lot was purchased with the idea of building a new, more permanent building. That same year the Asociación Educando con Cristo was created, with approval from the Colombian Secretary of Education, as the legal entity in charge of managing the school. In 2002 ECA became a member of the Colombian Association of Christian Schools, OBED, in which it has been active up to the present. In 2003, ECA was officially recognized as a Colombian school by the Colombian Secretary of Education, and the graduating class that year was the first to receive both a U.S. and a Colombian diploma. In 2004, Colombian students started taking the ICFES exam, a test similar to the SAT in the U.S., and the test results have ranked ECA as "Very Superior" every year except two.
In 2006, classes were held for the first time in the completed first phase of the newly constructed buildings. The second phase was inaugurated in 2009, including the library, computer labs, additional classrooms and administrative offices. In 2011 the Colombian Government recognized ACSI as a valid accreditation organization in Colombia.
ECA continues true to its vision as an interdenominational Christian school that offers an American education to approximately 300 students in grades pre-kinder to 12th. Most of the almost 50 teachers on its staff are North American missionaries. ECA serves families from 20 Christian missions and more than 80 different evangelical churches. All students graduate with an American high school diploma, and Colombian and foreign students who so wish may receive a Colombian high school diploma as well.
---