1. General Objectives
To assist parents in providing for the spiritual, social, emotional, physical, and intellectual needs of their children
To provide a program of formal education to meet the needs of the children of Christian families in a manner that is relevant to the present society as well as that in which they will eventually live
To train and equip future generations of Christ-centered, bilingual servant-leaders who will transform their world
To provide this education at a moderate cost
2. Biblical Principles
All instruction is to be permeated with God's Word, which is the standard for all spiritual, ethical, intellectual, and social training, as well as the guideline for a disciplined life.
Biblically-based education reflects the glory of God. His glory should be revealed through the Christian teacher who leads the student to interpret and integrate God's truth in his/her study through carefully selected materials and methods.
3. Teacher Profile
Committed Christian who reflects the spirit of Christ
Models Christ-like character and so demonstrates the reality of God's truth
Academically competent
Guides the student in the study of God's truth as revealed in His creation, His incarnate Word, and His written Word
Incorporates a variety of teaching methods that stimulate different learning styles
Ever-learning and ever-growing in his/her academic disciplines, skills, and knowledge through personal study
Committed to help each student incorporate God's truth into his/her life
4. Qualities of Instruction
Integration of Biblical principles into all academic disciplines and into all relationships
Correlation of theoretical knowledge to fundamental life experiences
Acquisition of information through available resources, with training in critical analysis based on Biblical principles
Identification of student gifts and talents, so s/he may be better able to implement God's plan for his/her present and future ministry
Meeting the needs of each student with an emphasis on the needs of English Language Learners
---
Student Profile
Each student is a whole being with spiritual, intellectual, emotional/ personal, social, and physical needs that must be considered in the formulation of goals, objectives, and curriculum. We strive to encourage and model Biblical standards as far as attitudes, speech, and conduct, desiring that each student pursue a lifestyle of moral and sexual purity. The goal of ECA is to help each student meet the following outcomes.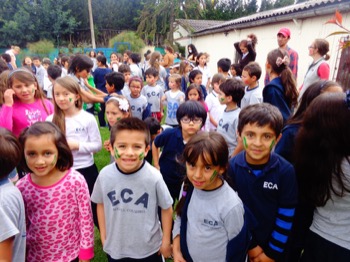 1. Spiritual
Understand the worth of every human being as created in the image of God
Recognize s/he was created for a purpose
Realize that God is active in all aspects of life
Realize that s/he is a sinner in need of grace and forgiveness
Encounter Jesus Christ in a personal way as Savior and Lord
Acknowledge not only that God is a loving Father concerned with all aspects of his/her life, but also that God's holiness requires his/her reverence and awe
Believe the Bible is the Word of God and is divinely inspired, without error in the original manuscripts, and authoritative in matters of fact, faith, and practice
Gain Biblical knowledge that will support spiritual experience and allow for spiritual growth
Apply Biblical knowledge to life experiences
Realize the lost condition of people without Jesus Christ, and be involved in opportunities locally and around the world to share God's love in a culturally sensitive manner because of faith in Jesus Christ
Be involved in an evangelical church community
2. Intellectual
Develop intellectual curiosity and be committed to lifelong learning
Search for truth in an atmosphere of encouragement and acceptance
Develop the ability to ask questions, think critically, solve problems, and make wise decisions
Know how to utilize resources, including technology, to find, analyze, and evaluate information
Articulate and defend their faith and their Christian worldview while having a basic understanding of opposing worldviews
Be well-prepared in all academic disciplines

Primarily, develop the communication skills of listening, reading with understanding, speaking, and writing in native-level English
Also, develop the communication skills of listening, reading with understanding, speaking, and writing in Spanish
Be proficient in math and science
Have a knowledge and an understanding of people, events, and movements in history (including church history) and the cultures of other peoples and places
Appreciate literature and the arts, and understand how they express and shape beliefs and values
3. Emotional / Personal
Have a Biblical basis for a realistic self-image that includes recognition and acceptance of weaknesses as well as strengths
Develop the capacity to give and receive love
Recognize, understand, and express emotions in appropriate ways
Develop the ability to choose proper responses, and to demonstrate the fruit of the Spirit in life situations
Identify God-given abilities and develop them
Be good stewards of finances, time (including discretionary time), and all other resources, and choose contentedness in all things
Understand that work has dignity as an expression of the nature of God
4. Social
Accept who s/he is in Christ Jesus as a basis for relating to other people
Embrace attitudes and standards of behavior that reflect moral integrity and promote kindness and sensitivity toward others, while practicing justice and peacemaking in the family and society
Have a critical appreciation of languages and cultures of other peoples, dispelling prejudice, promoting interethnic harmony, and encouraging Biblical hospitality
Appreciate and respect Colombia, as well as personal and peers' cultural origins
Understand, value, and engage in appropriate social (community) and civic (political) activities
Practice responsible stewardship of God's creation
Participate in activities that will prepare him/her to live a godly life in a changing world
5. Physical
Accept his/her physical self as s/he has been created
Understand and care for his/her body as the temple of the Holy Spirit
Develop his/her physical potential and skills
Enjoy a wide range of sports and physical activities